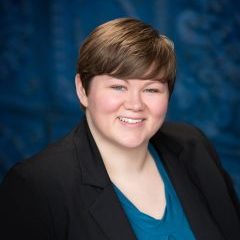 Limited Licensed Psychologist
Office Hours for Ms Weisensel:
Mondays : 10:00 am - 6:00 pm 
* Please note that Ms. Weisensel is unavailable on Mondays between the hours of 12:00 pm - 2:00 pm and between the hours of 3:00 pm - 6:00 pm, with her last available appointment time being 6:00 pm
Alicia Weisensel is a Limited Licensed Psychologist. She completed her Master of Science in clinical psychology at Eastern Michigan University and her clinical practicum at EMU's Counseling and Psychological Services as a student therapist.
During her time at EMU, Alicia actively participated in the Parenting Project Lab and studied the impact of maternal life experiences before, during, and after pregnancy on the their physical and mental health, as well as their developing relationships with their babies. She presented research at local and national conferences on topics related to the impact of maternal trauma on parenting behaviors and mother-infant attachment.
Alicia has spent the past four years working at Michigan Medicine providing neuropsychological assessments for children, adolescents, and adults with various brain injuries and neurodevelopmental disorders. She has also worked in private practice settings providing therapy and assessments for people of all ages with a variety of concerns.